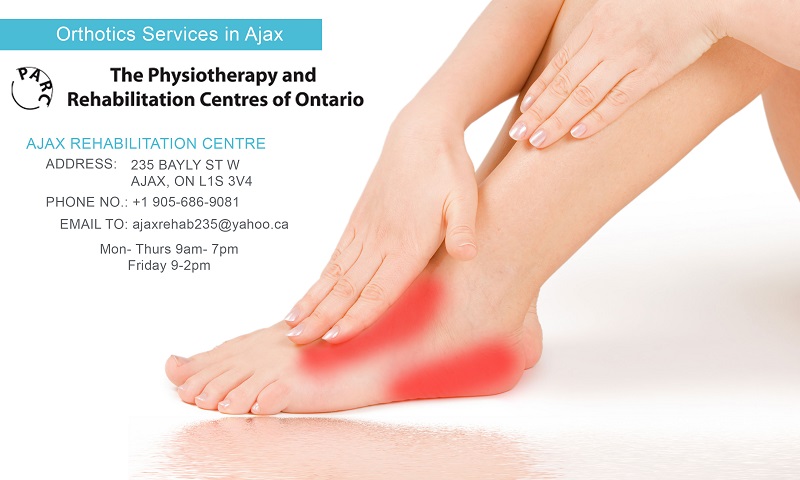 Are your feet in pain? Do you experience problems in walking or standing for long periods of time at work or while doing your daily activities? Do you feel as if decreased mobility is holding you back from doing the things you want to do? After one of our medical experts examines your feet, they may recommend regular use of orthotics to help alleviate the pain. For persons with certain medical conditions, particularly those involving the neuromuscular and skeletal system, orthotics may be the appropriate remedy.
We manufacture and provide quality orthotics in Ajax. We are the best in this industry because we use high quality materials and have our experts design and create orthotics based on your individual anatomy, physiology, and biomechanics. In other words, our orthotics are custom-made for you.
What Orthotics Do
Orthotics, or orthoses, are custom-made supports designed to correct structural or functional defects that affect the movable parts of your body like the feet, legs and lower extremities. These include foot supports, lumbosacral supports, wrist supports, neck braces, knee braces, shoe inserts, and splinters. Orthotics work more efficiently than over-the-counter supports. PARC Ontario offers quality orthotics in Ajax. We design, create, and provide you with the correct orthotics for you based on your anatomy, physiology, and biomechanics. Here are the basics of what orthotics does and how it can help you:
offers relief from sore foot, sore knees, and back problems
alleviates fascia pain and pain from bunions, heel spurs, etc.
maintains the normal positioning of the bones of the foot including the joints in the ankles, knees, legs, and toes
improves mobility
corrects an abnormal walking pattern
helps realign the spinal column
corrects minor biochemical foot dysfunctions and deformities such as hammertoes
provides you with additional shock absorption helpful when walking, jogging, or running
Serving Clients Since 1995
We're proud to say that we have been in business and have served hundreds of clients since 1995. With two decades' worth of experience, we have now become quality provider of orthotics in Ajax. When you choose to get your orthotics from us, you are assured of high quality materials custom-made to fit you that will last for a long time. Once you receive your device, we will educate you on how to use it properly for your optimal benefit. We also perform regular monitoring to determine the effectiveness of orthotics on your recovery or rehabilitation.