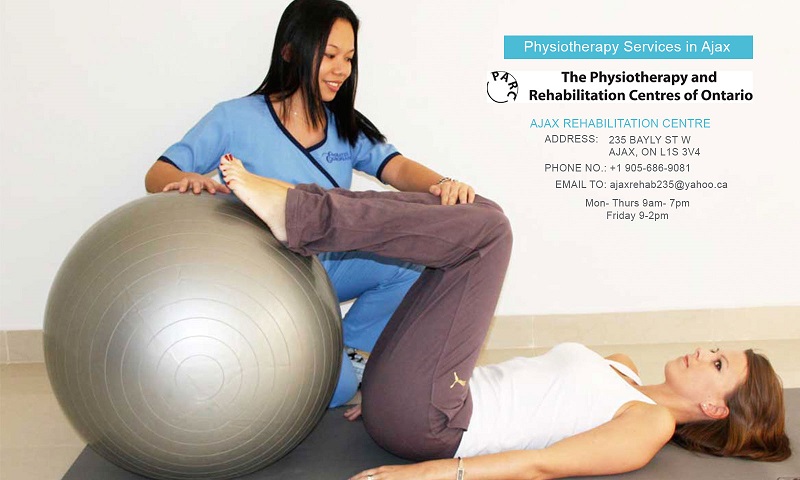 When you are busy working everyday you sometimes forget to take care of your body. This leads to having so much stress and being tired just after a day's work. This isn't a healthy way to live. You also have to take care of yourself as well. It's not that hard to do, Physiotherapy in Ajax is here to assist you in making you aware of what your health needs and how you can support it. When people say you have to rest, you seriously have to consider their advice because what would be a moment's rest is as compared to a week at the hospital? As what many would say health before wealth.

Going to a Physio in Ajax enables a physiotherapist to help you manage you well being. This only doesn't apply to people who care for their health; physiotherapy is also concerned with people who have suffered from injury, disability in movement, as well as exercise, manual therapy, education and even advice. Physiotherapists have a wide arrange of practices and can help you when you want to recover or to improve yourself. These experts are able to maintain health for people regardless of their age. They can help you manage the pain that you feel and keep you away from future diseases that could possibly affect your system.
If our bodies have cells to protect us, we have physiotherapy in Ajax as our first line of defense. You can trust that physiotherapists ensure only the best for your health and would encourage you to develop and facilitate your recovery. This makes you be able to work and take care of yourself at the same time. You are further encouraged to stay independent and manage your wellbeing without disrupting your everyday cycle. Physiotherapy has a whole person approach on health and wellbeing, thus making wellness integrates into your lifestyle step by step.
With a professional physio in Ajax you will be highly involved in your own care using awareness, education, participation and empowerment. There are many more things that physiotherapy can offer you such as helping with back pain, sudden injury, and management of long term medical conditions like asthma and even preparation for childbirth or a sporting event. We are always happy to help you here are the Physiotherapy and Rehabilitation Center of Ontario. We can easily be contacted through our website, or we will be happy to have you here at our office if you would like us to answer some of your inquiries. If you are within Ajax, then we are just a few minutes' drive from where you are. It's time to start caring for your health, let us help you.